Lorin Blackburn
2013 L.J. Hart & Company Scholarship Recipient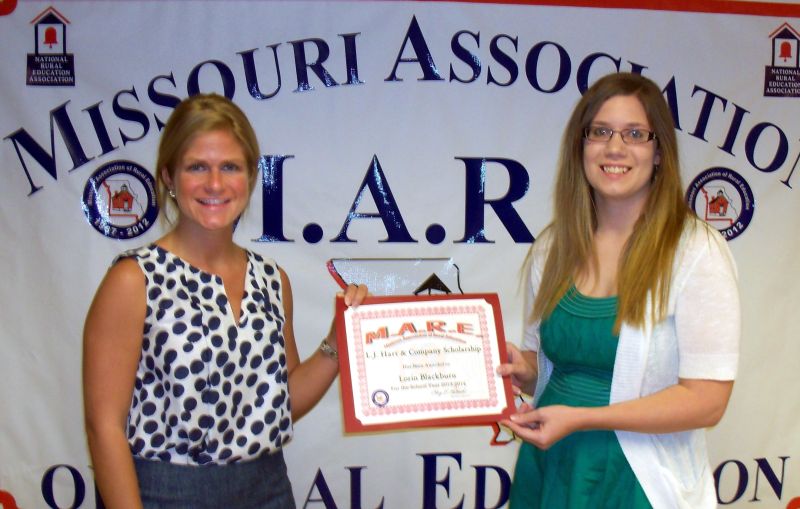 Lorin Blackburn of La Monte, Missouri graduated from La Monte High School, in La Monte.  She is currently attending Missouri Valley College – Marshall, Missouri majoring in Secondary Education as an English major.
Lorin shares that one thing that attracts her to teaching in a rural community is the support system that is hard to find in larger towns and can make a big different in the life of any student.  "Coming from a smaller community helped me find myself, and gave me a support system that I will have for the rest of my life."  My teachers had smaller classes, allowing them to actually get to know me.  Rural areas need our immediate attention now more than ever.  Due to advancements in technology and growing urban areas, our rural schools are being left behind.  As an aspiring rural teacher, I want to be part of finding the solutions so that a rural education system can make a big difference.
A college instructor shares that Lorin has been a leader in each classroom she enters, primarily through actively and enthusiastically participating in classroom discussion.  She also sets a standard for other students through her work ethic and ability to accept responsibility for her actions.  Another instructor shares that coming from a rural school with a diverse population has made Lorin aware of the challenges she may face in a rural school. 
Knowing the benefits of being in a rural school as a student and having the skills to use that knowledge to aide her future students, makes it appropriate to congratulate Lorin Blackburn as the 2013 L.J. Hart & Company Scholarship recipient.