By: MGO Creative Training Solutions
CIPA Training Videos
---
For the first time, the federal government is requiring schools to certify each year that training will be provided to all students regarding appropriate online behavior, including cyberbullying. Under the newly interpreted Missouri Human Rights Act regarding public accommodations, training will be key in helping minimize liability for schools.
MGO Creative Training Solutions has designed videos for students that can be utilized by districts in order to meet and exceed the requirements of CIPA and provide information to students regarding online safety in a fun and creative manner.
Each video is geared toward a different age group: pre-K through 2nd grade, 3rd grade through 6th grade, and 7th grade through 12th grade.
For more information click on this link: CIPA Training Videos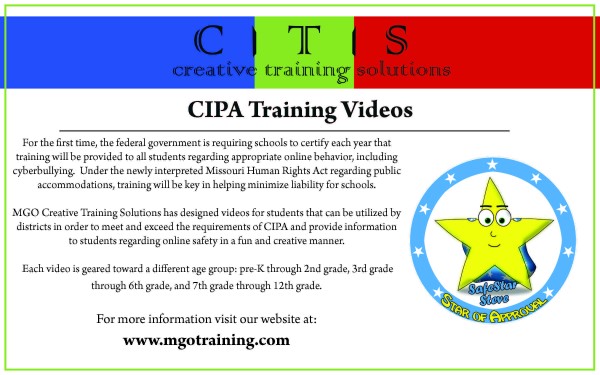 read more
Are you having a hard time viewing or receiving our emails? If so, follow this link to help you connect with our important emails, so you may stay in the loop!