Dake Wells Architecture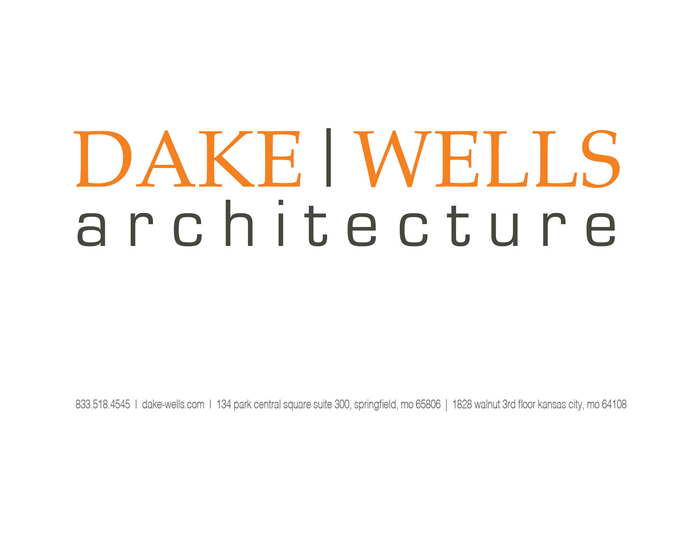 Dake Wells Architecture is a design-centered practice of architecture, interiors and graphics, with an emphasis on progressive and sustainable design solutions. The firm was founded in 2004 by Brandon Dake, AIA, LEED AP and Andrew Wells, FAIA, LEED AP, and has grown to serve a variety of public and private clients. Located in downtown Springfield, Missouri, Dake Wells Architecture's reputation is growing as the leader in intelligent design solutions for progressive clients and the firm is committed to raising the level of architectural design excellence in the Ozarks region of the United States.
Brandon and Andrew share a common vision to build a practice where a passion for design excellence forms the foundation of a collaborative design studio. Growing up in rural Missouri meant Brandon and Andrew could relate to the common public misconception that designed solutions are expensive or frivolous. Instead, they believe design is not only appropriate, but essential to our quality of life. It is rooted in thorough analysis, rigorous investigation, and meticulous execution that is achieved through diligence and commitment to the cause.
By definition, architecture is a creative profession. Yet it seems the spark is often missing. In recent decades, architects have been forced into a risk averse, commodity-oriented and marginalized position, often seen as a necessary evil. Our approach adds value to the design process by engaging our clients and constituents in the creative process, building trust and developing design solutions based on logic and rational problem solving, but without the preconceived ideas that have been repeated before. Each project is analyzed and conceptualized afresh, with rigor and a healthy dose of wit. As architects, we are trained to think broadly, conceptually and collaboratively. We offer our clients the combined art and science of architecture, eschewing self-indulgent expression in favor of clever, collaborative solutions, with the full support of our clients seeking innovation. Rather than following the trend toward specialization in a particular project type, we specialize in design as a discipline, applicable to a variety of architectural challenges, including those of sustainable practices. Frankenstein stands as a metaphor for our work. Created from discarded, overlooked parts, it was not until his creator saw the potential in assembling those disparate parts in a new way, and then animated by that mystical spark, that Frankenstein came to life. He is not unlike so many of the projects we accept, challenged with making something from nothing. Enlivening a place with limited means and from ordinary materials used unconventionally to elevate it beyond what is expected.