2011 Scholarship Recipients
The following scholarships were awarded during the annual MARE Board of Directors meeting held the last weekend of July.
M.A.R.E. Scholarship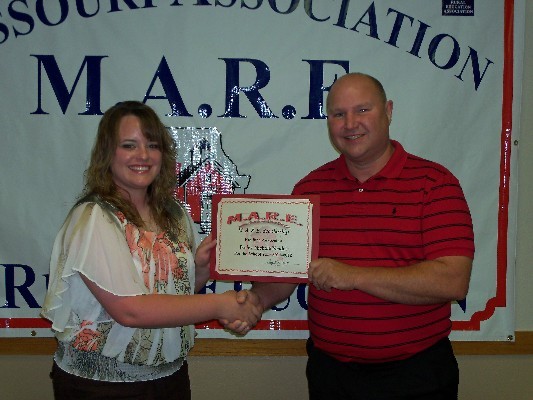 Bailey Nichole Neidel
of St. Joseph, Missouri, is a graduate of Benton High School in St. Joseph School District.  She is currently attending Missouri Western State University, St. Joseph, Missouri, majoring in Elementary Education.
Bailey shares that education has always been a career path that she considered.  When in elementary school, she wanted to become a teacher because she liked writing on the whiteboard.  Now, she wants to affect students' futures and have an impact on their lives.  Having grown up in a rural community, right outside of Dekalb, I found that rural schools have a laid back, easy going atmosphere that is inviting to everyone that enters through their doors.  This is what I envision my classroom to be, a place where students feel safe and an inviting place for students and parents to come in and feel welcome.
One of her former teachers shares that Bailey is an academic leader, setting high standards for herself and constantly striving toward those.  She is always looking for opportunities to challenge herself, taking a difficult course load in high school with multiple advanced courses and challenging herself in college by specializing in the field of science as she pursues a degree in elementary education.
A college instructor shares that Bailey has an exceptional ability to analyze and create new solutions to impending problems in analyzing P-6 student work as a teacher candidate.  Her study habits, her innate ability to perform well on tests and her superior practicum experiences bode well for her as a very successful university student as she continues her professional studies. Another instructor relates that Baileys understanding of the affective needs of young children and her ability to work cooperatively within that setting makes her the type of classroom teacher this profession desperately needs.
Setting a goal of pushing students to learn to their full potential and a willingness to provide all the assistance needed, makes it appropriate to congratulate Bailey Neidel as the 2011 M.A.R.E. Scholarship recipient.
David M. Cooper Scholarship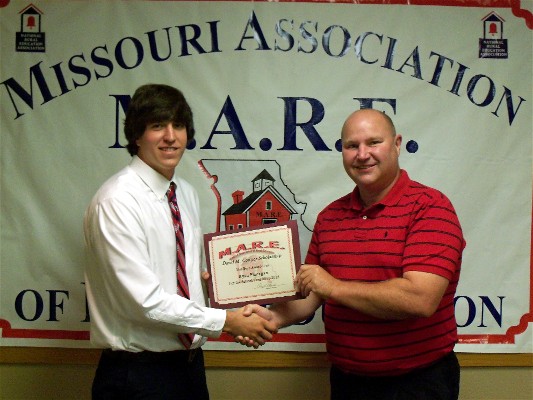 Ryan Flanagan
is a graduate of Elsberry High School, Elsberry, Missouri.  He is currently attending Central Methodist University - Fayette, Missouri, majoring in History Education.
Ryan shares that the primary reason for his pursuit of a career in the field of education is because he believes that children are our future.  The future is inevitable but there seems to be some political reformers who would like to prevent this from happening as long as possible.  Ryan goes on to share that teachers are the second biggest contributor to framing the minds of our youth, after the child's parents.  Every day, when I go to work, I want to feel like I am making a difference or that I am framing a better future not just for myself or my students but for the United States as a whole.
Another reason Ryan's interested in a career in education is the benefits he has observed with the involvement of both his parents in the field of education.  With their support and encouragement through the years, it has allowed me to maximize my full academic potential.
One of his professors/coaches shares that Ryan is a man of character and a great leader.  He has established himself not only in the classroom but also among his peers on the football field.  I believe that the moral and ethical decisions he makes on and off the field are reflective of the way we want our young men to conduct themselves.
One of his former teachers shares that with excellent leadership skills, Ryan was selected to serve as a tutor for high school students that were struggling.  He was patient, humble, and students were comfortable working with him.
Following the philosophy that if one strives for excellence and is able to hang his hat up at the end of every day knowing that he did everything to the best of his ability, then there is always success in future endeavors. 
Congratulations to Ryan Flanagan, the 2011 David M. Cooper Scholarship recipient.
Howard Heidbrink Scholarship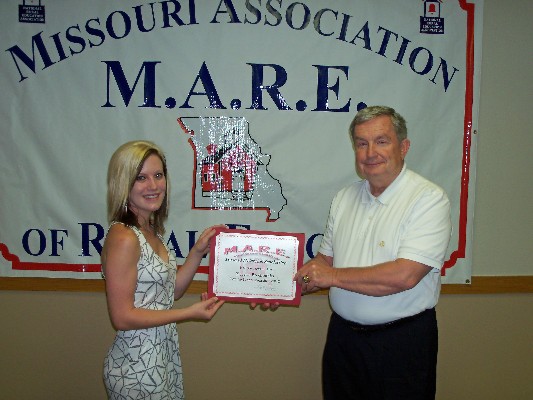 Krystle Norma Annie Brechbuhler
is a graduate of Aurora High School, Aurora, Missouri.  She is currently attending Drury University - Springfield, Missouri, working on a major in Music Education.
Krystle shares that her desire to teach in a rural community stems from her upbringing.  "I always enjoyed school and worked to absorb everything I could.  I began aiding my mother in her kindergarten classroom when I was in the third grade.  Helping others learn came naturally, and I knew my vocation immediately.  Education is everything, especially in rural towns like Aurora, Missouri."
Krystle goes on to share that education leads to innovation.  Who knows what the future students of Aurora might bring to the World?  One of my hopes as a prospective educator is to inspire my students to be passionate about something.
One of her college instructors shares that Ms. Brechbuhler is a very goal driven student.  She is very decisive and eager to work as a teacher.  Krystal pulls heavily from some wonderful teachers she has had in her past, including her own mother.  Her writing reflects that she has garnered wise advice from former teachers and she uses that knowledge to create solutions while problem solving.
One of her former teachers/administrators shares that Annie is a responsible, enthusiastic, and competent young woman.  Her leadership qualities, cooperativeness, and ability to work well with others made her a standout in our school and in the community.
Following the philosophy that one should "Continue to learn throughout ones life and that Knowledge truly is power," we congratulate Krystle Brechbuhler as the 2011 recipient of the Howard Heidbrink Scholarship.
Associated Electric Scholarship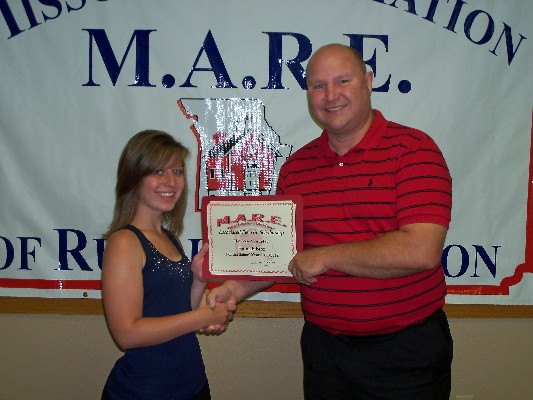 Hannah Broz
is a graduate of Montgomery County R-II High School, Montgomery City, Missouri.  She is currently attending William Woods University - Fulton, Missouri, majoring in Elementary Education.
The great Aristotle once said, "A great city is not to be confounded with a populous one."  Just because a city is large does not mean that it is the best place to live.  Growing up, I did not appreciate rural life.  After a move to the city, I realized it wasn't as great as I thought it would be.  I quickly realized how much I appreciated the rural way of life.  The enjoyment of living in a rural area is truly a rural community where everyone looks out for each other.  This last year, Hannah shares that she had the opportunity to substitute teach in her school district and it was a real eye opening experience.  From this experience, Hannah indicates she is sure she wants to teach kids what she has to offer and who needs help educationally.  "I want to make a difference in today's youth, not just be another teacher."
One of her former teachers shares that the most important thing to be said about Hannah is her sense of responsibility in serving others.  Since I have known Hannah, she has consistently spoken of pursuing an education in order to better serve those less fortunate.  Hannah is one who is not afraid to work hard for what is important to her.
One of her college instructors shares that Hannah embraces learning.  She dedicates herself to learning everything she can about how students learn as well as best teaching practices.  She completes activities calmly and quietly, yet efficiently and thoroughly awarding her the opportunity to be an outstanding and highly qualified teacher and teacher-leader.
With a philosophy of wanting to make a difference in a child's life, we extent congratulations to Hannah Broz, the 2011 Associated Electric Scholarship recipient.
L.J. Hart & Company Scholarship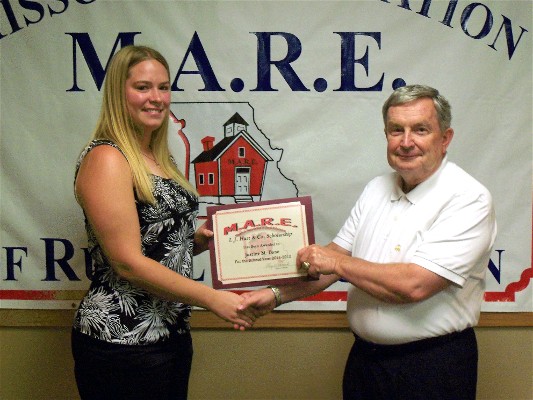 Justine Michelle Bane
is a graduate of La Plate High School, La Plate, Missouri.  She is currently attending Hannibal-LaGrange University - Hannibal, Missouri, majoring in Early Childhood Education.
Growing up in a small community, Justine feels she can relate to the students and the atmosphere of a rural school. The atmosphere that a small community provides is a breath of fresh air to 'starved lungs.'  A rural school tends to meet the needs of the students in the area giving them direct attention. During my school experience, we were taught that if you work hard, try your best, and have fun then that is all that matters.  I see this as a guide in the classroom that I would want, that student's first need to enjoy learning and then they will want to take the incentive and better themselves.
One of her former teachers shares that Justine is highly motivated to complete the task at hand and goes well beyond what is expected of her in any situation.  Her many attributes include high standards, a strong work ethic, and a pleasant personality.  Another outstanding memory of Justine is that she maintained perfect attendance for all her years in school, K-12.
A college instructor shares that Justine has been one of her students for the last three years.  In addition to being a very energetic and conscientious student in her studies and daily interactions, through her classroom instruction and the assessment of elementary students, she has displayed a real connection to children.  Through these teaching experiences, Justine has shown she has excellent potential for success as a rural teacher.
Coming from a small community, Justine wants to be able to give back to small towns and communities by helping others and providing opportunities to the district students.
We offer congratulations to Justine Bane as the 2011 L.J. Hart & Company Scholarship recipient.