---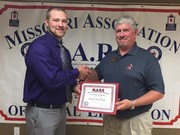 Troy Marnholtz presenting to Jacob Koelling
---
Jacob Koelling Awarded 2017 CTS Group Scholarship
Jacob Koelling is a graduate of Blair Oaks High School in Jefferson City, Missouri. He is currently a student at the University of Central Missouri in Warrensburg, Missouri working on an education major in Secondary Mathematics.
Jacob shares that he intends to ask his students to make connections and think in depth about the materials presented. He plans to actively seek connections that will spark learning in each of his students. His goal is to inspire his rural students to think like mathematicians.
One of his college instructors shares that Jacob's teaching ideas are creative and engaging. The instructor further notes that Jacob is a credit to his home community, his family and to the University of Central Missouri. Another professor shares that Jacob is going to be a teacher who is always willing to try something new in the classroom. A high school teacher noted that Jacob will make an excellent mathematics teacher and coach.
We are proud to recognize Jacob Koelling as the 2017 CTS Group Scholarship recipient!