---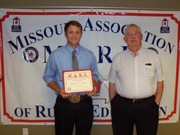 Rylyn W K Small - 2016 CTS Group Scholarship Recipient
---
Rylyn W K Small
2016 CTS Group Scholarship Recipient
Rylyn Small is a graduate of East Prairie High School in East Prairie, MO. He is currently a student at Southeast Missouri State University, Cape Girardeau, MO working on a major in Agriculture Education.
Rylyn shares that his rural community "means the world to me." Rylyn notes that the experiences he had attending a rural school and living on the farm have helped to mold him into the person he is today. His passion is students and he plans to work diligently in a rural school setting to help his students find a purpose.
One of his college instructors shares that Rylyn is the "epitome" of what agriculture educations stands for. He is an outstanding student and a passionate advocate for agriculture education. Another instructor notes that Rylyn has the intelligence, commitment and work ethic to achieve anything he pursues in life. He has the utmost potential for success as a rural teacher.
With his commitment to developing strong agricultural leaders who will also be strong rural community leaders, we extend our congratulations to Rylyn Small as the 2016 CTS Group Scholarship recipient.