Philip Dorth
---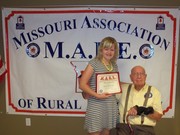 Phil Dorth presenting Kayla Mierisch with the 2016 Philip C. Dorth Scholarship on Saturday, July 30th
---
We received word late yesterday afternoon that Phil Dorth had passed away on Monday, August 15th at his home in Rocky Mount, Missouri. Phil was 83 years old. He had been involved with the MARE Association since it's beginning in 1987. His full obituary can be found at phillipsfuneralhomeeldon.com.
Two memorial services are planned. The first service will be held at the Concordia High School on Saturday, August 27th at 2:00 p.m. The second service will be held at the Northshore Baptist Church in Rocky Mount, Missouri on Saturday, September 17th at 2:00 p.m.
Online condolences may be shared with the family at www.pfheldon.com. Memorials in his name are suggested to the Northshore Baptist Church. If you would like to send a card, their home address is PO Box 769, Rocky Mount, Missouri 65072.
Please keep Ginny and all of the rest of the family in your thoughts and prayers.