---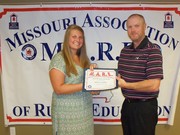 Abby Luallin - David M. Cooper Scholarship Recipient
---
Abby Luallin
2015 David M. Cooper Scholarship Recipient
Abby Luallin is a graduate of the Laclede Co. R-I High School at Conway, MO. She is currently attending the Hannibal-LaGrange University –Hannibal, MO, majoring in Early Childhood Education.
Abby shares that the most predominant reason for being so attached, to a rural school, is for the fact that is where she grew up and attended school. She would not change this experience for the world. Looking back Abby can see how positive Conway schools and its faculty has impacted her life. She wants to give students the same educational experience that she had. She lists her major goal is to have those personal connections with each student and help them work through their academic struggles.
A college instructor shares that Abby has shown a great love for teaching and children which is critical for entering the teaching profession. In class, it is noted that she is passionate about structuring learning opportunities, so that children can learn in all environments. Her love of rural life and teaching in that atmosphere is obvious in her demeanor and her interactions with students, public school teachers, and college professors.
Feeling strongly about returning to a rural community because that is where she got her education, makes it appropriate to congratulate Abby Luallin as the 2015 David M. Cooper Scholarship recipient.