---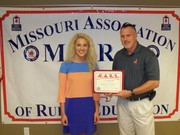 Lauren O. Shafer - 2016 FTJ Scholarship Recipient
---
Lauren O. Shafer
2016 Forrest T. Jones Scholarship Recipient
Lauren Shafer is a graduate of Appleton City High School in Appleton City, MO. She is currently a student at the University of Missouri, Columbia, MO working on a major in Special Education.
Lauren shares that she has been "immersed in rural culture" for the majority of her life. Her life experiences have convinced her that she wants to work in a similar rural setting and help her students see themselves in a positive light while developing empathy and compassion for all. She hopes to become a guide for effective learning through her dedication to the success of all of her students.
One of her college instructors shares that Lauren is energetic, interested in all aspects of learning and dedicated to her commitment to become a special education teacher. She is positive, enthusiastic and committed to helping students who are struggling. Another instructor notes that he is confident that Lauren's students will be active, learn lots and have fun doing it.
With her compassion, energy and resolve to help her students become more culturally aware while they reach their academic and social potential, we congratulate Lauren Shafer as the 2016 FTJ Scholarship recipient.