---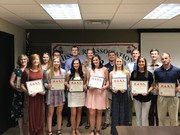 2019 MARE College Scholarship Winners
---
2019 MARE College Scholarship Winners
Fifteen $1,000 MARE scholarship awards were presented in a ceremony on Saturday, July 27th at the MRTA Building located in Jefferson City. Those receiving awards included:
Isobel Haskamp - "Howard Heidbrink Scholarship"
Mickayla Strother - "L.J. Hart & Company Scholarship"
Matthew Briggs - "William G. Peter Scholarship"
Emily Engemann - "Philip C. Dorth Scholarship"
Maegan Hall - "Frank Dean Cone Scholarship"
Alisha O'Rear - "David M. Cooper Scholarship"
Thomas Landewee - "Kenneth W. Cook Scholarship"
Kendey Eaton - "Ray Doerhoff Scholarship"
Abigail Naylor - "CTS Group Scholarship"
Alan Ottman - "Forrest T. Jones Scholarship"
Brandon Delmont - "Mickes O'Toole, LLC Scholarship"
Zachary Studdard - "Guin Mundorf, LLC Scholarship"
Beau Turgeon - "Tueth Keeney Cooper Mohan & Jackstadt, P.C. Scholarship"
Lisa Robertson - "American Fidelity Assurance Scholarship"
Genevieve Rothwell - "Missouri Education Health Group Scholarship"
Primary funding for this scholarship program is provided by the Annual MARE Scholarship Golf Tournament. See the related article on the website for the 2019 Scholarship Golf Tournament! We are very proud of these students and wish them the very best as they complete their teaching degrees and begin their teaching careers!
* Click on the photo link in the upper right hand corner to see a photo of all of the scholarship winners.