George K Baum & Company
Associate Member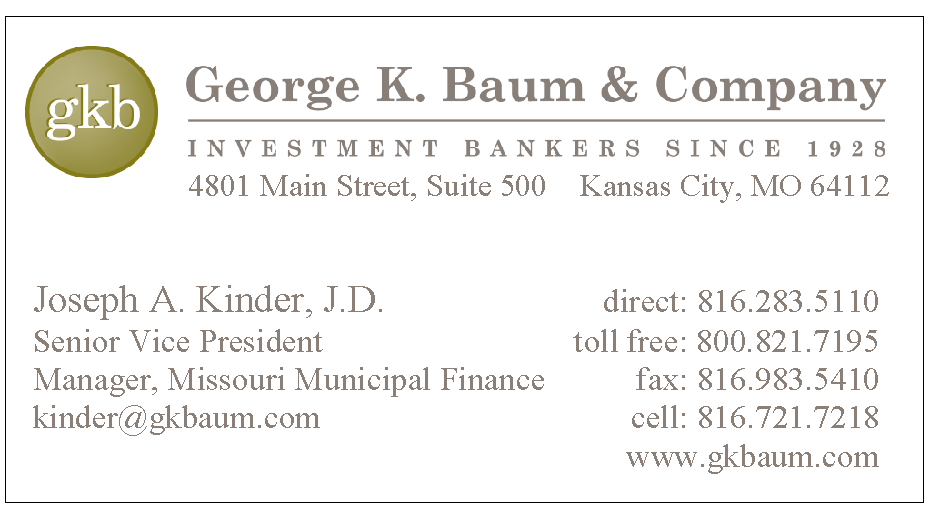 George K. Baum & Company is an investment banking firm with an industry-leading municipal bond business. Our clients include both individual and institutions, and we approach each one with commitment, energy, innovation and confidence.
Our focus is on helping our clients achieve their goals. We do that by providing relevant products and services in every segment of our business. We are dedicated to combining quality service with integrity and creativity -- a commitment we have maintained since the firm was founded in 1928.
By choosing George K. Baum & Company as an investment partner, clients gain access to a broad array of investment opportunities and expertise.
Municipal bonds. We are a leader in municipal finance and consistently rank as one of the nation's top underwriters of negotiated municipal bonds.
Taxable fixed income securities. The firm trades government, agency and mortgage-backed securities totaling more than $6 billion annually.
The Firm's affiliate, George K. Baum Capital Advisors, Inc. helps clients realize superior value primarily through mergers and acquisitions and private capital raising assignments.
At George K. Baum & Company, we continually strive "to create enduring value for our clients, our people and our shareholders," a goal that is affirmed in our corporate Mission and Guiding Principles.
We invite you to explore our Web site for a better understanding of how we approach our business. Please contact us for a personal discussion of how George K. Baum & Company can meet your investment needs.